Complete Story

02/28/2020
Results from the IPMC Conference
Last Month more than 600 pest control professionals attended the 2020 Interstate Pest Management Conference (IPMC), held at the Maritime Conference Center in Linthicum Heights, Maryland. Over the course of two days, attendees networked, attended educational sessions and previewed the latest industry product innovations during our exhibit hall. So, what did attendees think of the conference?
IPMC 2020 Exceeded Expectations
When asked "Overall, how well did MSPCA's 2020 Interstate Pest Management Conference meet your expectations?" 98 percent of respondents said the conference "met, exceeded or highly exceeded" their expectations. One attendee noted "this was my first conference I've attended... Completely blew all expectations out the door. Highly informative speakers and in a comfortable environment" and another stated "Exceeded expectations. Appreciated the organized conference and valuable industry information/updates provided."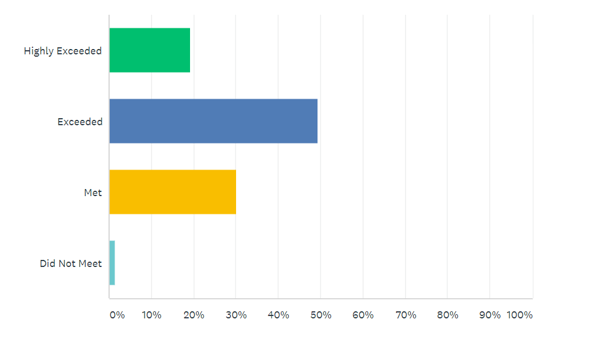 Educational Sessions Well Received
Our keynote presentation with Daniel Dye II was the highest rated at the conference with 80 percent of respondents rating it as "good or exceptional". His presentation on small fly management was the highest rated concurrent session with 69 percent of respondents rating it as "good or exceptional".
Our Turf & Ornamental track continues to grow! Now in its second year, IPMC offered it as a full day session allowing the program to qualify for credits in Virginia as well as D.C. and Maryland. Attendance numbers doubled this year and we look forward to continuing to offer this moving forward.
What We've Learned
94 percent of respondents rated the sign out process as "good or exceptional". One attendee noted, "the sign out process is so much better than it used to be. It's quick and easy with no real line to wait in which makes getting out of the parking lot a lot quicker as well." The MSPCA Board and staff will continue to investigate ways to simplify the sign out process.
When asked "what were the Conference highlights for you, in terms of adding value to you and your company?" many respondents noted diverse topics, exceptional speakers, the amount of credits that can be earned, and being able to network with industry peers.
Planning for 2021
The MSPCA Board will be finalizing dates for the 2021 conference within the upcoming weeks with a save the date coming out shortly after. Thank you to everyone who attended the 2020 IPMC and a special thank you to those who filled out the survey. Feedback from our members and attendees help us to make decisions moving forward. If you attended the conference and did not have a chance to fill out the survey, please contact the MSPCA office for instructions on how to access the survey.
---