Complete Story

02/16/2021
Results from the 2021 Interstate Pest Management Conference
IPMC 2021 Exceeded Expectations
When asked "Overall, how well did MSPCA's 2021 Virtual Interstate Pest Management Conference meet your expectations?" 99 percent of respondents said the conference "met or exceeded" their expectations. One attendee noted "Being that this was virtual for my first time, I didn't really know what to expect, could it keep my interest throughout the whole meeting, would the speakers have a different impact on my receiving the information virtually verses in person, but I was truly pleased and the whole conference exceeded my expectations!"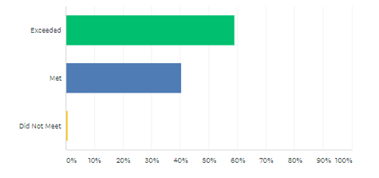 Educational Sessions Well Received
Our keynote presentation with Jerome Goddard was the highest rated at the conference with 80 percent of respondents rating it as "good or exceptional". His presentation on Bed Bugs and Post Traumatic Stress Disorder was an excellent presentation. One attendee noted "Dr. Jerome Goddard was informative in his presentation. I could listen to him on practically any topic."
Our Turf & Ornamental track continues to grow! Now in its third year, IPMC offered it as a full day session allowing the program to qualify for credits in Virginia as well as D.C. and Maryland. Attendance numbers doubled this year and we look forward to continuing to offer this moving forward.
What We've Learned
While all attendees enjoyed this year's virtual event, everyone cannot wait to get back to meeting in person. Attendees noted, "I look forward to seeing faces and smiles again, it's a yearly event I look forward to" and "I have attended two conferences, one in person and the other virtual. They were both well done and subject matter was applicable and beneficial. I absolutely support future attendance!!" The MSPCA Board and staff cannot wait to get back to meeting in person as well.
When asked "what were the Conference highlights for you, in terms of adding value to you and your company?" many respondents noted diverse topics, exceptional speakers, the amount of credits that can be earned, and being able to network with industry peers.
Planning for 2022
The MSPCA Board will be finalizing dates for the 2022 conference within the upcoming weeks with a save the date coming out shortly after. Thank you to everyone who attended the 2021 IPMC and a special thank you to those who filled out the survey. Feedback from our members and attendees help us to make decisions moving forward. If you attended the conference and did not have a chance to fill out the survey, please contact the MSPCA office for instructions on how to access the survey.
---