Complete Story

07/20/2022
Carpet Beetles
Pest of the Month - July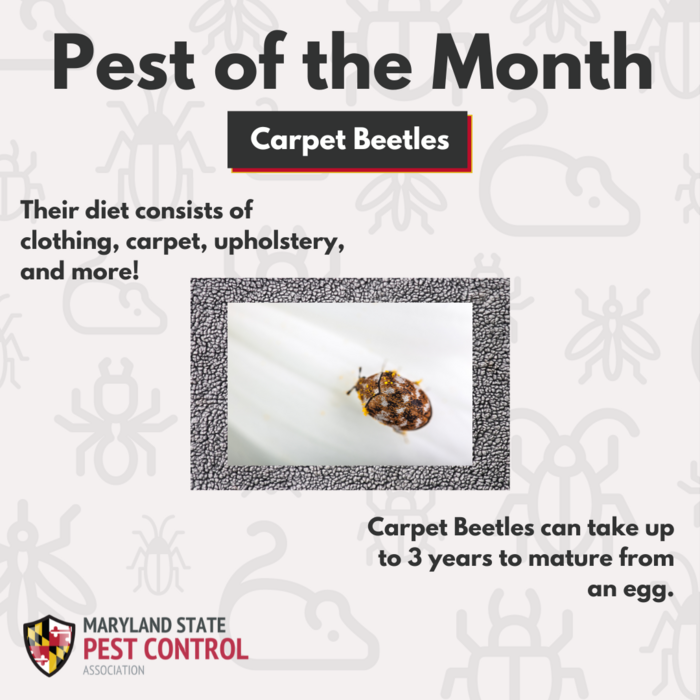 CARPET BEETLES
Here's one beetle you don't want to hear singing. Carpet beetles are notorious for consuming their namesake; however, these trouble makers are capable of consuming basically any fibrous animal protein. Their work is often mistaken with that of clothes moths and creates a dangerous situation when identifying our July pest of the month.
Carpet beetles mostly eat flower pollen and only want to eat animal-based materials while they're still larvae.
Their larvae are only about 1/8 to 1/4-inch long, tan and brown in color, and covered in little hairs or bristles.
Keeping your animal fiber clothes and rugs clean before storage is essential to preventing an infestation.
Items that have been identified with an infestation should be quarantined, laundered, or discarded as quickly as possible. Heat, like from the washing machine and dryer, kills larvae and adults.
Read more about carpet beetles here!
---
MSPCA will highlight a pest each month on marylandpest.org, in its own email, in the e-newsletter Closer Look, and on MSPCA's social media channels. Includes recognition as a sponsor with your company logo linked to your website.
Each pest of the month is archived on the website for the full year!

• $200 per issue
Ad copy due first Wednesday of the month. Contact MSPCA's Sales Development Manager Cathy Vick at cvick@marylandpest.org if you're interested today!
---