Complete Story

10/31/2022
Meet MSPCA New Management Team
Bringing Decades of Experience to MSCPA!
The Maryland State Pest Control Association (MSPCA) has been in the very capable and caring hands of the staff at Kellen Company, but after a reorganization they are, sadly, stepping away from managing MSPCA. Outgoing MSPCA Executive Director, Courtney Truelove, would like to share this message: "It has been an absolute pleasure working with MSPCA the last few years and getting to know the incredible individuals that make up this Association and industry. I wish everyone the best and continued success in the future."
The good news is that the Board has secured a management team to carry on the excellent work of our Association. Cooper Coron & Associates (CCA) will take over management of MSPCA on November 1, 2022. Stepping in to manage us is the executive management team of Andrea and Kristin Coron, principals at CCA.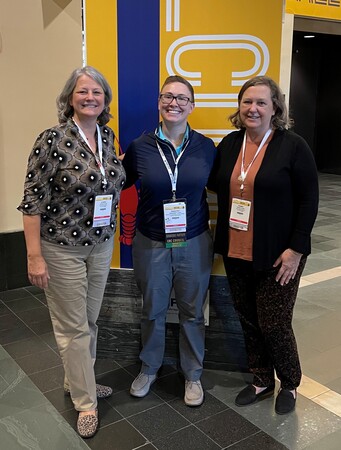 This new management team comes with a wide range and depth of experience within the pest management industry. For 28 years, the sisters-in-law have been working together to manage the Virginia Pest Management Association (VPMA). CCA manages several other industry organizations including Pi Chi Omega, the national pest control fraternity; the United Producers, Formulators and Distributors Association (UPFDA – suppliers to the pest management industry); and the Virginia Wildlife Damage Management Association (VWDMA). They have broad experience in, specifically, associations in the pest management industry.
Andrea has a BS in Business Administration and History from the University of Mary Washington and a Master's in Education from Marymount University. Andrea has 32 years' experience in nonprofit management and marketing. She has spent the last 28 years specializing in association management, board relations, meeting planning, strategic planning, and legislative and regulatory advocacy.

Kristin has a BS in Biology, with a concentration in Education, from the University of Mary Washington. Kristin has 30 years of experience in membership management, bookkeeping, technology and website coordination, technical writing and document preparation, with a specialization in membership services. Together, Andrea and Kristin provide full-service association management.
During a quick sit-down chat with MSPCA President Samantha Forrest at PestWorld, Andrea and Kristin both indicated that CCA stands ready to put their experience in nonprofit trade association management to work as they assist MSPCA in meeting the Association's long-range goals, while supporting the excellent programs that already exist. Andrea said, "It is great to be stepping into a position where you already enjoy so many solid relationships. Kristin and I are both looking forward to expanding our relationships with members of the MSPCA that we have not yet worked with."
Samantha shared that the final decision to select CCA as the new management firm was solidified when it became abundantly clear that Andrea and Kristin already have a deep understanding of the Association's needs, and of the industry at large.
Samantha said, "I am confident that CCA has a firm commitment to meeting the goals of the Association, improving service to its members, as well as deepening the collaboration with partners in the pest management community. The MSPCA Board is excited to begin working with this team of industry professionals and encourages you to introduce yourself to them at an upcoming MSPCA event."
Mark Your Calendars!
MSPCA has two upcoming events! Mark Your calendars and plan to attend. Event details and registration will be posted soon.
| | |
| --- | --- |
| Open Annual Board Meeting | Interstate Meeting 2023 |
November 29, 2022

Location to be announced

Don't miss this opportunity to see your Board in action, enjoy dinner together and get more involved in the leadership of the MSPCA!





January 25 & 26, 2023




Maritime Conference Center




Registration will open November 14, 2022



The same great training you have come to rely on for excellent training that just happens to also earn you recertification credits!

---