Complete Story

09/04/2023
Spotted Lantern Fly - August 2023
Pest of the Month - August 2023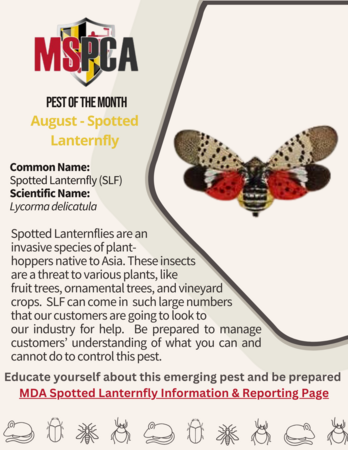 Spotted Lanternflies are an invasive species of planthoppers native to Asia. They were first reported in Pennsylvania and have started to spread throughout Maryland, where they were causing substantial damage to agricultural crops, trees, and plants. The Secretary of Agriculture has issued a quarantine order for 18 ​Maryland counties. These insects are a threat to various plants, including fruit trees, ornamental trees, and vineyard crops. They feed on the sap of these plants, weakening them and making them more susceptible to disease and other pests. Spotted Lanternflies can come in overwhelming numbers that our customers are going to look to our industry for help.
Managing the customer's expectations can be challenging. For pests like these, clearly explaining the biology of how these pests work and what you are allowed to do can hopefully alleviate some stress for both your operation and for the customer. Working with the customer with their yard and the immediate surrounding environment might help alleviate some of these problems as well.
Links to resources:
---
MSPCA will highlight a pest each month on marylandpest.org, in its own email, in the e-newsletter Closer Look, and on MSPCA's social media channels. Includes recognition as a sponsor with your company logo linked to your website.
Each pest of the month is archived on the website for the full year!

• $200 per pest month
Ad copy due first Wednesday of the month. Contact MSPCA at info@marylandpest.org if you're interested today!
---